Donations help us to help others
Your donation to Gladstone Women's Health will help increase the safety, health and well-being of people exposed and impacted by domestic and family violence, sexual violence and social justice issues in the Gladstone Region and Biloela area of Central Queensland.
Your donation will directly support our work in:
Purchasing personal products for women and children escaping domestic and family violence.
Providing free counselling services for women and youth impacted by domestic and family violence, and/or sexual violence.
Domestic violence and sexual assault court support services
Prevention of violence against women
Family violence system leadership
Gender equity, wellbeing and health
Sexual and reproductive health
Community education/wellbeing programs
Enhancing the safety of women and children impacted by domestic and family violence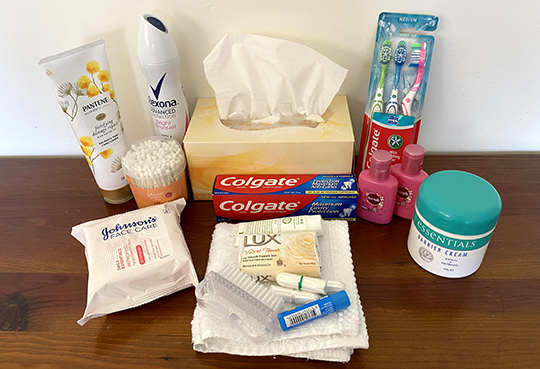 Donation Types

Women and children fleeing from domestic violence often leave their situation with nothing so the types of items they often need are everyday personal care products. Below is a list of the products mostly needed:
Shower gel or soap
Shampoo and condition
Face cloth
Wipes (baby and personal care)
Toothbrush and toothpaste (children and adult)
Deodorant
Comb and brushes
Sanitary pads and tampons
Sanitiser
Tissues (pocket and boxes)
Notebook and pen
Hair bands
Nappies
Dummies/soothers
Children's story book
Baby wrap
Teddy bear (new only due to hygiene)
Please be advised we cannot accept donations of razors.
Donations we cannot accept
Gladstone Women's Health has limited space and, as such, cannot accept large items, clothing or furniture. We ask you donate these to St Vincent's de Paul (details) or (other and how they donate). 
We also cannot accept disposable razors.